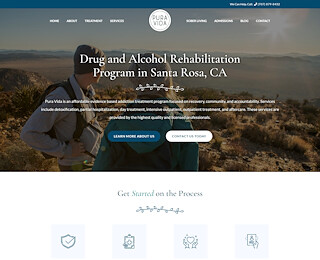 Addictive behaviors to harmful substances such as drugs or alcohol are today one of our country's most serious public health problems. Within the addictive behaviors, experience and statistics indicate that alcoholism is at the top of the pathologies with the highest demand for treatment.
Alcohol abuse and dependence bring with it problems of a very diverse nature such as those related to loss of physical health (alcoholic hepatitis, liver cirrhosis, etc.) and psychological (depression, memory deficits, pathological jealousy, etc.), traffic accidents, cases of abuse in the family, work problems, as well as acting as a gateway or bridge drug to the consumption of other psychoactive substances or pathological gambling.
This is why people who need addiction recovery services in Santa Rosa, CA, to control their condition can count on fully equipped centers to help them recover in the best possible way.
At Pura Vida Recovery Services, we are among the most outstanding treatment centers in Santa Rosa thanks to our team of health professionals and the advantages we can offer our patients.
Our alcohol and drug rehab treatments in Santa Rosa have several advantages for our patients, among which we can count the following:
Personal development and improvement
In the rehabilitation of alcoholic patients we find that alcohol is only the visible tip of a very deep iceberg. We can find many more personal deficits whose improvement is a prerequisite for the balance and abstinence of the person. Some of these individual deficits may include:
The presence of poor self-care and environmental habits ingrained in the patient's lifestyle with a personal imbalance leads to neglect of health, rest, nutrition, responsibilities, and family.
The need to incorporate leisure and free-time activities that act as protective factors against alcohol consumption and social normalization.
Intervention at the family level due to the problems generated by alcohol abuse such as domestic violence, marital problems, breakdown of communication between family members, deterioration of the domestic economy, etc.
Our patients count on a multidisciplinary team at all times to guide their recovery
Having a multidisciplinary therapeutic team (physicians, clinical directors, counselors, nurses, etc.) ensures a comprehensive intervention at all levels, which accelerates the rate of evolution of our patients.
Our outpatient program is oriented to individuals and families who maintain a strong bond and social support that allows them to seek a solution to their addiction while continuing with their daily routine.
The goal of the work we do at our Santa Rosa drug rehab center is to help people regain control of their lives to reintegrate into society as quickly as possible.
The addiction treatment carried out at Pura Vida Recovery Services, along with specialized and indispensable medicine, is based on our trained and ex-addicted therapists' extensive experience and excellent results, leading to the recovery and reintegration of patients.
If you or a loved one is struggling with addiction to drugs, alcohol, gambling, or gambling, contact us to know more about our alcohol rehabilitation programs near Santa Rosa.
Get support or apply for a scholarship: 707-879-8432